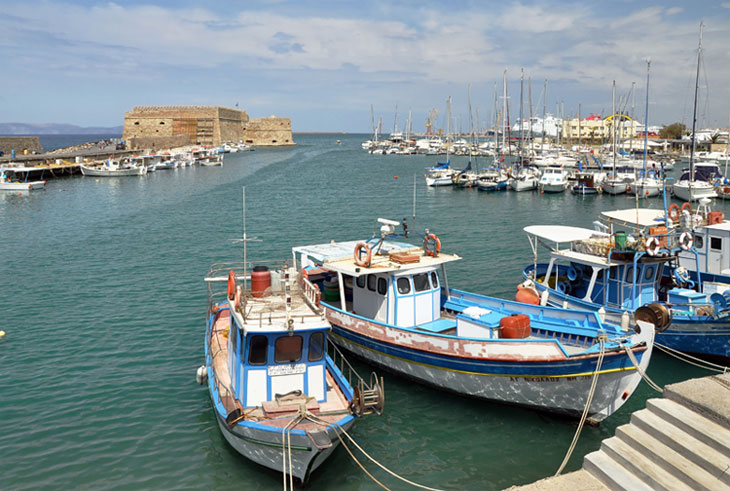 Travelling to Heraklion
Heraklion, is the largest city in Crete with a population in excess of 180.000. It concentrates most of the economic activity of the island, and is the main port of entry to Crete for the majority of visitors and commodities.
It is a very dynamic and cosmopolitan town, particularly during the summer period when thousands of visitors can be seen shopping in the market or visiting the museums and other places of interest.
Heraklion lies the North coast of the island, having to the west at about 80 km the town of Rethymnon and at 135 km the city of Hania. To the east are the town of Agios Nikolaos (60km) and the town of Sitia (130km).
How to get there
Heraklion's airport is about 5km east of the city. Taxi and public bus are available for transfer from/to Iraklion. Heraklion also receives a lot of visitors by boat.
What to see
As a modern town, has extensive facilities that cater for all needs of its visitors. All around the old part of the city, a visitor can walk following the Venetian walls that meet at the old port and "Koules", the fortress that dominates the old harbor of the city.
The visitors should definitely visit the archaeological sites at Knossos and Phaestos, the Caves of Matala, the Medieval Castles, the Byzantine monasteries and the Archaelogical Museum of Heraklion that houses most of the Minoan findings in Crete. Special attention should also be paid to the Historical museum of Heraklion that houses findings from the early Christian era to today and the Museum of Natural History.
Also, many cultural festivals are organized by the municipality in summer in various villages and attending such a festival is a nice experience of local tradition.
What to eat and drink
The residents of Heraklion are people that enjoy going out a lot, either for lunch, dinner, a coffee or a drink, or all of them - the weather, of course, helps a lot to this. So, there are plenty of restaurants, family taverns, luxury café - snack bars, traditional coffee shops, music halls with traditional Cretan or Bouzouki, small pubs and music bars, either indoors or outdoors, open throughout the year and frequented by visitors and locals alike.
Where to swim
All along the northern and the southern coasts of the region, visitors will discover amazing Heraklion beaches to relax. Some of them are, Amoudara, Hersonissos, Matala, Amnissos, Gouves, Fodele, Analipsi, kokkini Hani, Stalida, Agia Pelagia, Malia e.t.c.