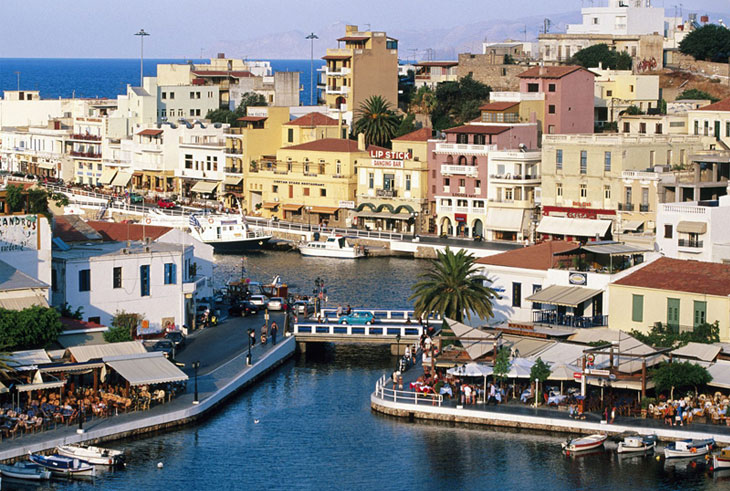 Travelling to Agios Nikolaos
Agios Nikolaos is a coastal town on the Greek island of Crete, lying east of the island's capital Heraklion, north of the town of Ierapetra and west of the town of Sitia. Agios Nikolaos, is the capital of the Lassithi province of Crete. It is built around a picturesque lake at the north-western side of the Mirabello bay, the biggest bay in Crete.
Is the ideal place for rest and fun, all year round and for all ages, combining the traditional hospitality with the authenticity of the genuine Cretan way of life. Also, Agios Nikolaos is one of the most developed tourist areas, not only in Crete but in Greece in general.
How to get there
Agios Nikolaos is about 40 miles from Heraklion Airport and the journey time is 45 – 60 minutes by car or taxi.
What to see
There are boat trips up the coast to see Barbarossa's cave and the old leper colony of Spinalonga – one of the most famous spots in Crete.
Also you can visit a smallish coastal town called "Elounda", one of the most luxurious and exclusive resorts in Crete. Elounda, is about 10 km from Agios Nikolaos.
Much quieter than Elounda and most visited is "Plaka village" about 15 km from Agios Nikolaos. You can enjoy your food at fish tavernas and drink your coffee at cafes by the waterfront with Spinalonga in view.
Tourist attractions include the small lagoon Lake Voulismeni (obviously the most beautiful ornament of the city), small beaches in the town, the tiny island "Agioi Pantes", the archaeological museum, one of the best marinas in the Aegean Sea, the Small Church of Saint Nicolas, the small port and numerous fairs.
What to eat and drink
There are plenty selections of restaurants, taverns and café bars in the town, with an inexhaustible assortment of snacks and specialities of Greek and Cretan cooking, accompanied with all sorts of wines or the local strong "raki".
At night, there are countless chances for fun at the numerous nightclubs and discos, or at selected clubs with traditional Cretan dances, songs and mandinades or the latest hits of the Greek and international charts.
What to buy
There are many tourist shops, full of excellent articles of traditional Cretan art, Minoan copies and copies from the Popular Art museum, e.t.c. One can also visit fine art galleries and woven handicrafts, jewellery shops, international bookstores and kiosks with Greek and foreign press.
Where to swim
The exemplary beaches of Agios Nikolaos are always among the candidates for the prize of purity and cleanliness by the respective European Committee, earning more and more "BLUE FLAGS" each year!
Some of them are, Ammos beach, Gargadoros beach, Akti Themistokleous beach, Ammoudi beach, Kitroplatia beach, Almyros - Municipal beach e.t.c.